The New York Police Department are seeking the public's help in identifying a suspect who assaulted a gay couple as they stood on the Greenwich Village subway platform on Sunday March 2.  The suspect approached them and first asked if the couple were gay according to reports. Peter Moore and J.P. Masterson were returning home after celebrating their tenth anniversary when the suspect asked the question of them.
"I fucking hate faggots," the assailant told Mr. Masterson as he beat him in the face. Mr. Masterson's nose and eye socket were broken in the assault and he sustained significant bruising as a result.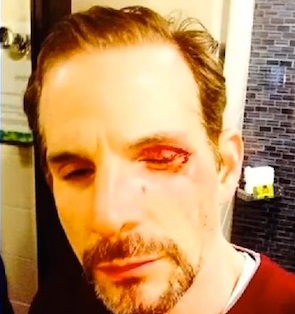 The unprovoked attack was witnessed by numerous people on the platform at the same time, but it appears as though no-one stepped forward to assist the couple. NYPD are seeking both witnesses to the assault as well as help in identifying the suspect based on the composite sketch below. The suspect is described as a White male, approximately 5′ 8″ tall, weighing around 170lbs, in his late 20's and may have a thick Polish or similar accent.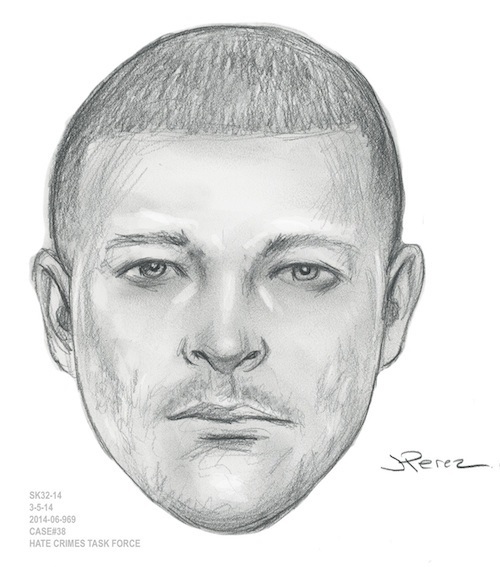 Anyone with information about the attack is asked to call Crime Stoppers at (800) 577-TIPS, visit the Crime Stoppers website or text tips to 274637 (CRIMES) then enter TIP577.
CCOP condemns such unprovoked violence and we extend our sincere wishes to Mr. Masterson and Mr. Moore as they try to recover from this ordeal.  We also extend a sincere hope that those who witnessed the incident, and those who may recognize the suspect, will step forward and provide information to police to help secure his arrest and conviction for this crime.
We encourage everyone to immediately report all such crimes to police, whether you are the victim yourself, or whether you witness such an assault taking place.  There are far, far more good, law abiding and decent people around than there are thuggish miscreants such as the suspect in this case.  While you may not feel ready, willing or able to intervene physically, taking the step of immediately calling 911 when you see an incident such as this could save a life.  We implore you to do so.  You can make the report anonymously if need be, but get life saving professionals rolling to the scene as quickly as possible.