PATROLLING FOR SAFETY
Deploying regular weekly uniformed and visible "Safety Patrols" of three unpaid volunteer members, Castro Community On Patrol (CCOP) offers general safety information and guidance, advice, and an extra set of "eyes and ears" for the community we serve.
Our Patrollers encourage good behavior and our presence helps to prevent, or quickly address, bad behavior in the neighborhood.  As unpaid community volunteers, we don't physically break up fights or make arrests, but since 2006 we have had a significant positive impact on the overall safety of the neighborhood, working closely with residents, business owners and staff, community organizations, and with official entities such as the Supervisors, the Mayors Office, the Police Department, the Fire Department, the District Attorney and more.
Our visible "Safety Patrols" is one of our KEY programs helping to enhance the "fabric of safety" in the neighborhood.
IMPORTANT DATES
NEW VOLUNTEER TRAINING
Conducted on demand by ZOOM.
180 Minute Community Self-Defense Class (FREE) 
We don't have a current date or location set yet.  We will update this space when we schedule a new class.
Directors & Volunteers Monthly Public Meeting
We meet by ZOOM on the 3rd Wednesday of each month at 8pm
Contact us at INFO@CastroPatrol.org for the link to join our meeting.
KEEPING THE COMMUNITY
SAFE SINCE 2006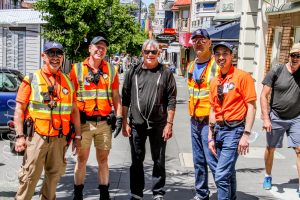 We deliver several KEY programs to help improve and enhance the "fabric of safety" for the neighborhood including:
COPS – Community On Patrol Service program which trains, certifies, and deploys volunteers on regular neighborhood patrols, much like a normal neighborhood watch but with "boots on the ground" walking and interacting with residents, employees, and visitors.
CRESt – Community Response, Engagement, and Support  program which brings emergent community volunteers together with our trained Patrollers to assist other community groups and organizations with their special events, rally's, marches and so on. Through this program our Patrollers also engage directly in the management of other community benefit efforts such as the Castro Cares program, Castro Merchants, Stop The Violence program, etc.
CET – Community Education  and Training program which develops training classes and outreach materials on a number of safety topics which are typically provided FREE to anyone seeking them.  This program includes our FREE Community Self-Defense classes and our FREE safety whistle distribution efforts.
CBW – Castro Business Watch program which we manage and organize.  The CBW is very much like a residents neighborhood watch, except this one is uniquely for businesses to share information and exchange ideas.
We also work diligently to share relevant information and concerns, ensuring the appropriate people, groups, and entities are involved in finding solutions.
SAFE SPACE / SAFE PLACE PROGRAMS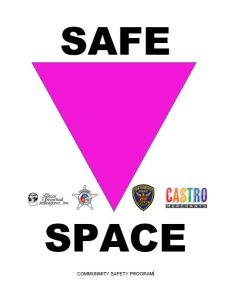 Working closely with the San Francisco Police Department, the Castro & Upper Market Merchants Association, and the Sisters of Perpetual Indulgence, Castro Patrol has promoted and supported the SAFE SPACE program since it was relaunched in 2009.
The SAFE SPACE program is a collaboration between commercial and retail businesses in the Castro who have agreed to offer a "sanctuary" and "SAFE SPACE" within their property to ANYONE who may feel threatened, or unsafe on the street.  The participating partner will give you sanctuary in their property while calling 9-1-1 or other appropriate resources on your behalf.
LOOK FOR THE PINK TRIANGLE SAFE SPACE sign in commercial and retail windows and doorways to identify these participating partners, and please take a moment to thank them for participating and be sure to support them when possible.
The San Francisco Police Department, Community Engagement Division, also recently developed a SAFE PLACE program for the entire city.  Adopting the same concepts as the Castro program, the SFPD provide a RAINBOW POLICE STAR window sign to participating partners – but the program works precisely the same way.
Enter any store or business displaying the PINK TRIANGLE SAFE SPACE and/or the RAINBOW POLICE STAR SAFE PLACE window decal and advise them of your safety concern or needs.
The participating partner will summon resources as appropriate at your request and will allow you to remain in their facility until responders arrive.
If you are a ground floor commercial or retail business owner who would like to participate as a partner in the SAFE SPACE program, please reach out to us at INFO@CastroPatrol.org if you are located in the Castro neighborhood.  If you are located outside of the Castro neighborhood, please reach out to the SFPD directly at SFPDcommunityRelations@sfgov.org.