The Metropolitan Community Church (MCC), Community Patrol USA (CP-USA) and Castro Community On Patrol (CCOP) will once again collaborate to present a community Self-Defense seminar on Saturday June 21 from 12:30pm to 5pm at the Metropolitan Community Church, 150 Eureka Street in the heart of the Castro.
"Safety awareness is vital," said Ken Craig, a Grand Master ranked martial artist who will lead the seminar and who also serves as Chief of CP-USA and is one of the original founders and serves as Deputy Chief of CCOP.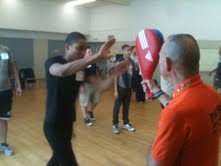 "With a huge influx of visitors to the city and the Castro neighborhood during this fun weekend, a little more awareness can go a long, long way to ensuring that Pride Weekend is the fun and memorable couple of days it should be – for all of the RIGHT reasons."
"The seminar is fun, low impact and suitable for absolutely anyone.  It will provide some simple thought process and ideas to help people recognize and avoid potential trouble, de-escalate and walk away from sticky situations and in a worst case scenario, hopefully provide a few simple techniques that anyone can use to help then escape trouble," added Craig.
The seminar will be held in the MCC sanctuary with a recommended minimum donation of $25.00, however no-one will be turned away for lack of funds.  As the sanctuary is limited in space, attendee spaces will also be limited, so we strongly recommend pre-registering directly with MCC through their web site: