The one thing CCOP ALWAYS needs, is more quality, dedicated and consistent volunteers who understand and value the long term safety goals CCOP works towards, in collaboration with the community, neighborhood groups and law enforcement professionals at every level.
Patrolling with CCOP is fun, good exercise, and open to anyone 18 years or older provided you don't have a felony or violent misdemeanor conviction or charges pending.  We have volunteers from 18 their late 50's, from all walks of life and from all over San Francisco and even beyond the city and county limits. All it takes is a little time and commitment each month, often less than three hours, to make a significant difference on behalf of the Castro and Duboce Triangle neighborhood.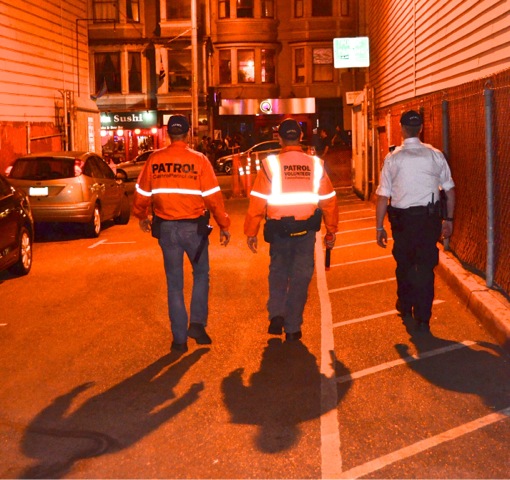 Wearing our distinctive orange uniforms, they watch and observe as they walk around neighborhood.  They offer safety information, provide directions and guidance to tourists and visitors, check on the welfare of the homeless individuals who call the neighborhood home, encourage respectful behavior of all who frequent the area and hand our our ever popular free safety whistles and other safety brochures. When needed, Patrollers summon professional responders such as EMT's, San Francisco Patrol Special Police Officers or San Francisco Police Department Officers.
Our goal is to encourage everyone to have fun and enjoy the neighborhood, while being safe, sensible and respectful to the neighborhood and everyone who lives, works and visits it.  Contrary to popular belief, we actually put more intoxicated people into taxi's to get them back to their hotels or homes, and we summon more ambulances for medical conditions than we call on the Police to make an arrest in the area.  Our presence is designed to be a visible deterrent for those who would target the neighborhood, as well as an additional and trusted safety presence for those who live, work and visit the area.
Patrolling with CCOP is most certainly NOT like stepping into an episode of COPS on television.  Indeed, we're most pleased when we complete a quiet patrol where we didn't have to call an ambulance or summon the police at all.  Those are "good nights."  When that isn't the case though, our Patrollers and trained and equipped to know what to do and how to provide assistance and aid when needed, and how to get professional responders to an emergency as quickly as possible.
If giving back to the community, getting to know the neighborhood in a way you've probably never seen it before on patrol, and getting to know the nightclub bar staff and law enforcement Officers who work in the neighborhood; as well as making some great new friends sounds good to you, register with us as a new volunteer in our next class.  There is no indentured servitude involved, so if you go through the training and decide patrolling is not for you, no worries. Just let us know.  On the other hand, who knows, you may really enjoy the experience as more than two hundred volunteers in our seven year history to date have done.
Our next new volunteer training class is scheduled for Tuesday November 11 from 7pm to 10:30pm in the heart of the Castro.  There is absolutely NO OBLIGATION to patrol with us once you complete the training if you don't feel it is a good fit for you, but the training will give you some good concepts and safety skills non the less.
To register for the 11/11/2014 new volunteer training class, just click HERE or use the  "Sign Up Now" button on our home page.
Once you register, we'll send you a volunteer training manual to read ahead of the actual training class.  You'll go out on a walking "mock" patrol during the class to help orient you and make the whole training environment more realistic.  Once you complete the class you'll be assigned as a Trainee Patroller and you'll be asked to complete four supervised patrols within the next six months, so you'll be walking with more experienced and seasoned Patrollers who will be able to guide and advise you on your first few patrols.  Once you successfully complete your first four supervised patrols, you'll be promoted to full Patroller status and will receive your own CCOP ID, CCOP ball cap, CCOP polo shirt and rank insignia.
Give us a try.  You may LOVE patrolling, and even if you don't, you'll learn some extremely valuable information and you will be an asset to the community as a result.