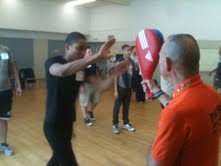 Join us for another Queer Community Self Defense Class from the Castro Community On Patrol!
This Class is free but fills up quickly we highly recommend registering and securing a spot.
In association with the San Francisco AIDS Foundation STRUT, and Community Patrol Service USA (CPS) invites you to pre-register for our very popular Beginners Community Self-Defense class on April 23 at STRUT, 470 Castro Street, 94114.
Space is limited so only the first 20 registrants will be able to participate. Please pre-register soon, but also be sure to let us know if you plans change so we can offer open spaces to other possible attendees.
The class is a very low impact presentation of some very basic, but extremely useful and valuable self-defense concepts taught by Grand Master Ken Craig. We have provided this same class on many occasions in the past to packed classes and rave reviews. This class in one of many community efforts to improve safety and security in the neighborhood and provide residents with valuable information and options to improve their own general safety when out and about throughout the city.
There will be periods of standing and moving, as well as working with other people as part of the practical class exercises. We can make necessary accommodations for special needs, but please let us know if a sign language interpreter is needed at least a month prior to the class.
Grand Master Ken Craig who will lead the class holds 9th Degree black belt ranks in HapMoosaKi-Do and YongChul-Do and an 8th Degree black belt rank in TaeKwon-Do. He founded and ran Triangle Martial Arts Association in the heart of the Castro for over fifteen years. He is one of the founders and the only remaining original member of Castro Community On Patrol (www.CastroPatrol.org) and currently serves as their Deputy Chief and Director of volunteer training, certification and emergency services liaison. He also serves as Outreach Coordinator for the SFPD Auxiliary Law Enforcement Response Team (ALERT) and is Chief of Community Patrol Service USA which publishes a monthly Crime Activity Report for the Castro / Duboce Triangle neighborhood among other things. Ken also chairs the SFPD LGBT Community Advisory Forum, and sits on the SFDA LGBT Steering Committee, and is a member of the International Police Association, the FBI Citizens Academy San Francisco Chapter, and the CA Disaster Corps and CA Medical Reserve Corps.
This class is always popular and spaces fill up fast, so we strongly recommend pre-registering EARLY.
If you have questions about CCOP please contact Ken Craig at kencraigca@gmail.com
Questons about Strut events? Contact our Strut community organizer Baruch Porras Hernandez bporrashernandez@sfaf.org