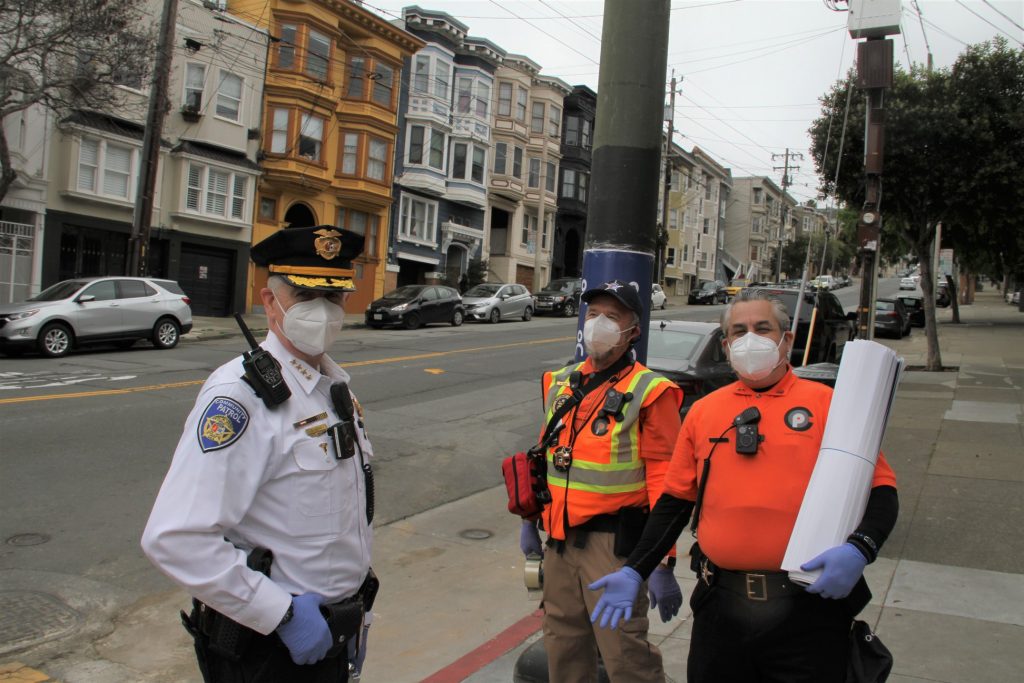 The COVID-19 Pandemic has caused legitimate concern and worry for many, and a significant change in normal every day life for most.  CCOP Patrols have been no exception.
We reduced our Patrolling during the height of the Shelter In Place period, as the neighborhood was essentially quiet, but as people are getting back out and about, and as businesses are trying to re-open, we are deploying more patrols on a weekly basis.  Safety, and the health and well being of our Patrollers is our primary concern and as such we have instituted very specific and clear procedures, and we will continue to amend them as new information becomes available.   The procedures are:
All Patrollers are issued two N-95 masks which must be worn at ALL times during the patrol deployment,
All Patrollers temperatures are taken before the deployment, and immediately after each deployment,
Nitrile gloves and goggles are available for all Patrollers who wish to use them,
We have some full barrier coveralls in the event we need to respond to an emergency situation within six feet of a victim.
We have deployed a number of patrols over the last few months, supporting the Castro Farmers Market on Noe Street, and the "street service" areas on 18th Street on Sundays.
Our visible presence now, during this time, is vitally important and reassuring for many Castro residents, business owners, and visitors.  Wanna' help?  Sign up for our next New Volunteer training class on Zoom this weekend.