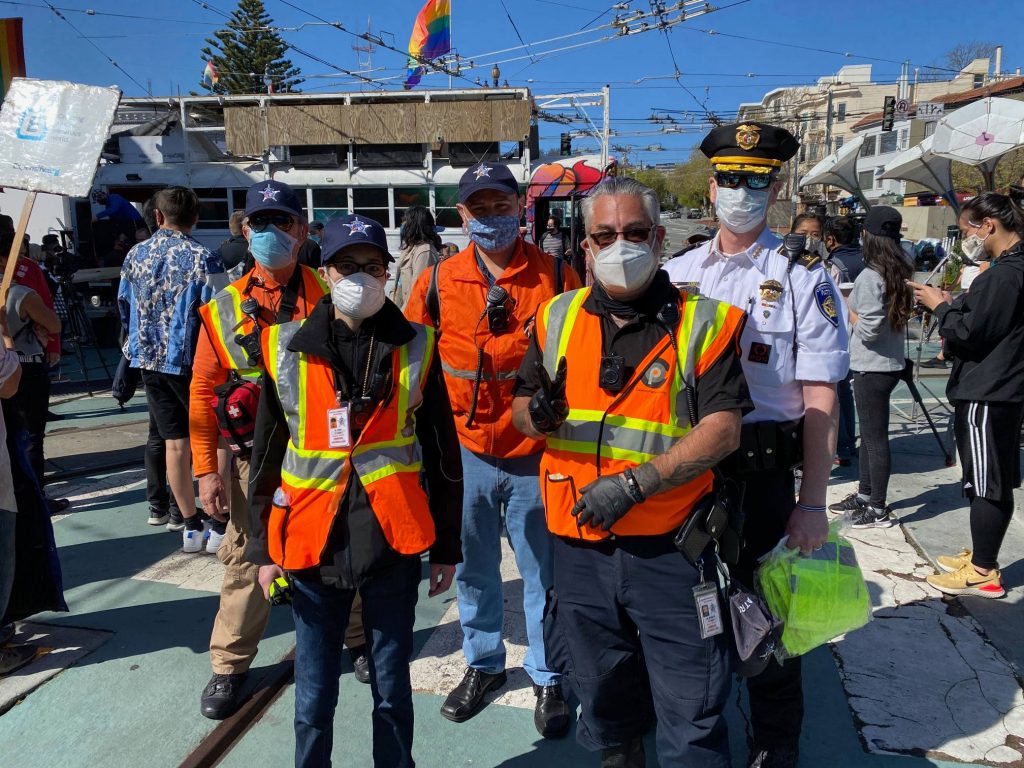 Chief Greg Carey, Patroller Leandro Gonzales, Chief Ken Craig (Community Patrol Service)
Patroller Stephanie Ong, Senior Patroller Marcus Ponce
April 8, 2021
As the City and County of San Francisco, and the Castro neighborhood itself, slowly begins to open up and return to something approaching normality, Castro Community On Patrol NEEDS YOU to join us and work with us as a new Patroller.
We have already held two new volunteer training classes on-line through zoom, deployed a number of Sunday afternoon patrols during the Castro Streets openings, we've deployed patrols for the reopened Castro Farmers Market, and we've assisted with safety at a number of rally's and even a full blown march from Castro to City Hall.  Requests for our support are only likely to increase as the City and the Castro begin to bounce back from the COVID and Health Order restrictions.  As they do, we will need many more Patrollers to help us meet that rising expectation.
CCOP Patrollers are all unpaid volunteers who dedicate their time, energy, and commitment to making the Castro just that little bit safer.  Patrolling in teams of three at various times and on various days, much of our function is to provide guidance and directions to visitors, to offer safety advice to residents and businesses, to offer medical aid when necessary, and to call in professional responders when needed. It is fun, rewarding, and very satisfying volunteering for those with an interest in public safety and resiliency.
We are actively looking for more volunteers to join our Patroller ranks.  Our next on-line training class through Zoom will be held on Tuesday May 18 from 7PM to 9PM.
Anyone of 18 years or older is welcome, provided you meet some very basic minimal requirements:
Able to walk for three hours (most patrols are around this length of time)
Good enough command of English to communicate with members of the public and emergency dispatchers
No recent or pending Felony convictions for theft or violence
No outstanding warrants
Patrollers not only receive excellent training from CCOP, but will also have access to additional training provided free of charge through the program such as:
First Aid / CPR / AED certification
Stop The Bleed certification
Narcan training
Basic self-defense training
Consider joining as a new Patroller in our next class.  After all,  "SAFETY is a COMMUNITY EFFORT."