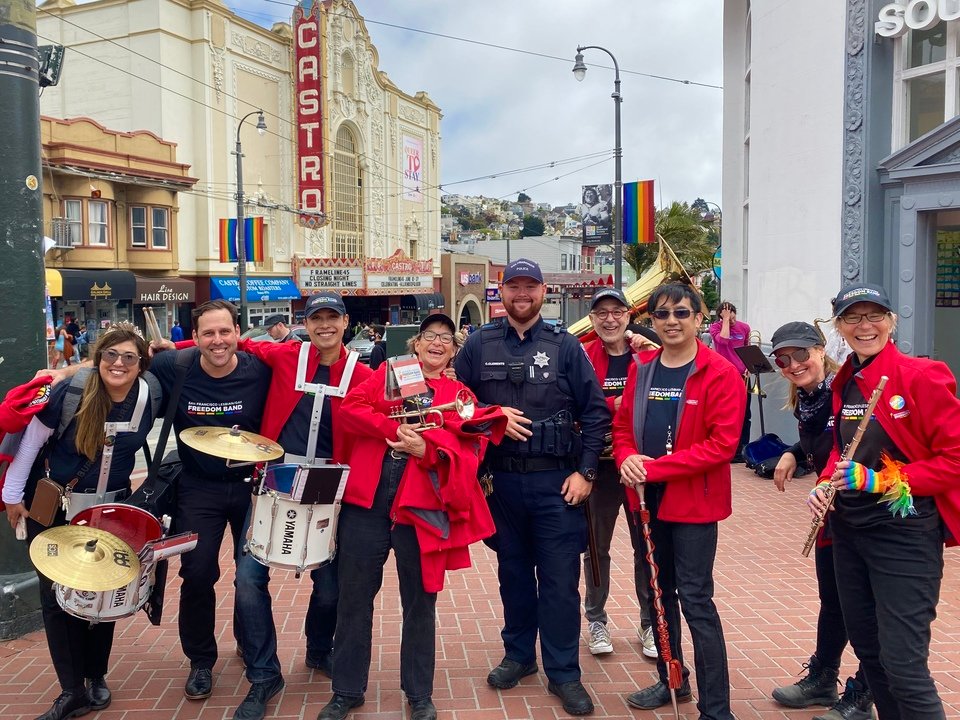 The end of an era is upon us, with the imminent departure of San Francisco Patrol Special Police Officer, Cody Clements who owns the Castro Beat and has been patrolling it since our former beat owner, Officer John Fitzinger passed away in 2017.
Officer Clements has accepted a full time position with another Law Enforcement agency outside of San Francisco, a decision that will offer him more benefits, medical coverage, and a retirement fund – all of which is not available in his current role.  We wish him every success and happiness in his new job, which he will begin in January of 2022.  This means December of 2021 is his last months as the Castro's beat Officer for the Patrol Special Police.
"Cody, and the Patrol Special Police organization will be sorely missed in the Castro," said Chief Ken Craig of Community Patrol Service (CPS), a non-profit organization that trains Community On Patrol Service (COPS) groups such as Castro Community On Patrol (CCOP).
"Patrol Special Police have been keeping neighborhoods safe in San Francisco since the Gold Rush era, and they predate the San Francisco Police Department." Chief Craig continued.  "They have been a fixture in the Castro, providing high-quality and responsive community policing and services in a low-key, respectful, and highly effective way from Serge White, through Jane Warner, to John Fitzinger, and finally to Cody Clements.  They have supported and backed-up the volunteers of Castro Community On Patrol since CCOP was first founded.  They will leave a huge gap on the departure of Cody at the end of this year."
The Patrol Special Police are not funded through City funds and taxes, but instead are hired and paid by individual residents and businesses.  Fully trained through the State of California Police Officer Standards Training (POST) organization, they are supervised by the San Francisco Police Commission, receive continuous training at the San Francisco Police Academy, and deploy daily from their district Police Station; however, they do not respond to regular calls for service, but rather only respond to calls and requests from their independent clients. This makes them more responsive and effective in handling low-level incidents and really understanding the community they serve and the residents and businesses there. Sadly, from a high of some thirty Patrol Special beats covering the entire city, there now remains only one active beat in the Marina district, which in essence marks the end of a unique era in the history of San Francisco and SF Bay Area Law Enforcement.
The Castro will be all the poorer for the loss of the Patrol Special Police services, but Supervisor Mandleman and SFPD Mission Station will work closely to mitigate the impact of the loss of this critical service in collaboration with the community and non-profits such as Castro Community On Patrol.